WELCOME - and GOOD NEWS!
As a church, we believe God has shown the extent of His love through the life, death and resurrection of Jesus Christ and we believe God still speaks to us today through the Bible.
We are pleased to announce that our church is open again for morning services. If you would like to join us, you will be most welcome! Please phone 01698 373131 and leave a message by 2pm on Thursday so that we can make arrangements for following the necessary Covid guidelines.
Our premises are to be found at 55 Belhaven Terrace, Wishaw ML2 7AY. (Click here for Google Maps). To contact us, please click here.

---
THE FOOD BANK has now MOVED to
South Wishaw Parish Church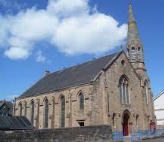 East Academy Street, Wishaw, ML2 7BG
Phone: 01698 375306
OPEN EVERY FRIDAY from 10.00 - 12 noon in South Wishaw Parish Church
You can also apply for a Crisis Grant through the Scottish Welfare Fund.
---